Ondansetron EP Impurity F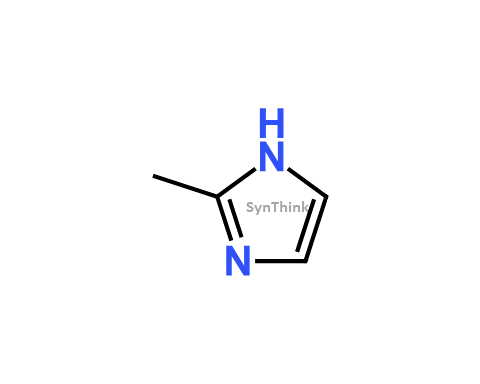 Price : $0
| | |
| --- | --- |
| CAS No. | : 693-98-1 |
| Mol F. | : C4H6N2 |
| Mol W. | : 82.1 |
| Cat No. | : SA35806 |
Description
Additional Info
Terms and Conditions
Quick Enquiry / RFQ
Description
Product Name
Ondansetron EP Impurity F
Synonyms
Ondansetron BP Impurity F

2-Methyl-1H-imidazole

Related API
Ondansetron
Category
Impurities
Ondansetron EP Impurity F product with CAS: 693-98-1 is related to Ondansetron. It is also known with other names such as Ondansetron BP Impurity F; 2-Methyl-1H-imidazole. This product is developed by SynThink's R&D team using various organic synthesis and analytical techniques. It is used in monitoring and controlling of impurity levels in Ondansetron and its related formulations as per International Conference on Harmonization (ICH) formulated guidelines. Moreover, Ondansetron BP Impurity F is also used in the process of Abbreviated New Drug Application (ANDA) filing to FDA and toxicity study of respective drug formulation.
Product quantity / packs as per your requirement, just let us know!
Please contact us or email us at [email protected]
Certificate of Analysis (CoA) and Characterization Data:
All products are provided with a certificate of analysis (CoA) along with the characterization data like 1H-NMR, MASS, HPLC Purity, MSDS, etc. (whatever relevant and possible). Moreover, additional data like 13C-NMR, 13C-DEPT NMR, GC, GC-MS, IC, Potency, TGA, etc. will be provided on request (extra charges may apply). 
This product can be used as a working standard or secondary reference standard. Additional internal validation as per respective FDA regulations/guidelines may require. This product provided by SynThink is generally used for Abbreviated New Drug Application (ANDA) filing to FDA, toxicity study of respective drug formulation, Quality Control (QC) and analytical studies during commercial production of the API]. Please also find out process impurities, degradation impurities, potential impurities of related api/drug developed by our R&D.
Products provide by SynThink are for research and development (R&D) use only
If you need different pack size / quantity, please contact us or email us at [email protected]
Terms and Conditions
In-Stock products will be shipped in 24 Hrs. For others please enquire.
Shipping
Free for purchase above $5000
Delivery
In-Stock, products will be delivered in 8-15 days via FedEx in the USA, Europe, and other countries.
Return Policy
Returns/replacement accepted if you are not satisfied with the quality of the product, (please send us an email with the reason/issues which are facing, within 15 days, after receipt of the product).
Order
Place your order online or by email 

[email protected]

 (YOU DON'T NEED TO PAY WHILE PLACING THE ORDER. Click here for more info)
After Sales Support
 Please write to us. Our R&D team will provide all possible support.
For more info please check FAQs. 
RFQ / Enquire about Ondansetron EP Impurity F